SoilScanner: Digital Soil Analysis Device
The Soil Analysis Device is a digital soil scanner that provides instant analysis of soil nutrients and determines the appropriate type and amount of fertilizer needed. With its mobile app it also generates a fertilization program to ensure optimal soil health and higher yields.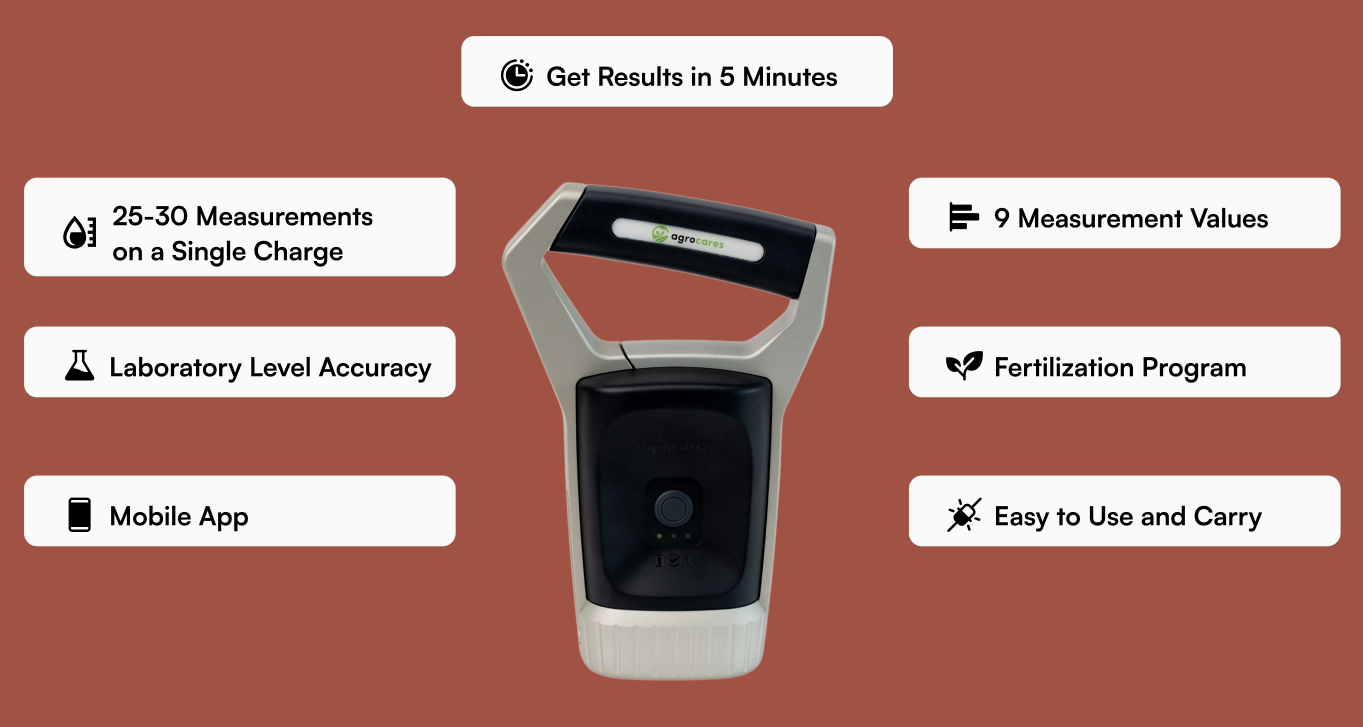 Why Choose SoilScanner?
Fast, Simple and Reliable Soil Analysis
Reliable Results in 7 Minutes
Get accurate soil analysis without the need for agronomists or lab visits. Our portable device provides reliable results anytime, anywhere. With no need for calibration, you can expect quick and precise measurements in just 7 minutes.
Increase Yield with a Tailored Fertilization Program
Analyze your land in sections and determine the fertilizer needs of each part to optimize input application. Achieve higher yields with a customized fertilization program based on the analysis.
Precise Measurements
The device is portable and allows for multiple soil measurements to be taken across different areas in a single day. With a single charge, you can conduct approximately 30 measurements and receive instant results on our mobile application.
Easy Access via Mobile Application
Access all your soil reports and easily download, print, e-mail, or SMS your results to agronomists through the Doktar mobile application. The application is compatible with Android and IOS devices.
9 Different Measurement Values
The Soil Scanner provides a comprehensive soil analysis. The standard license includes the following nine parameters: Soil texture, pH, organic matter, Nitrogen (N), Phosphorus (P₂O₅), Potassium (K₂O), Clay, Cation exchange capacity, Soil temperature. If you choose the advanced package, you can also measure Ca, Mg, Al, and Fe.
Standard

1 Year / 3 Years / Unlimited

Advanced

Valid for 1 Year

Nitrogen (N)
✓
✓
Phosphorus (P)
✓
✓
Potassium (K)
✓
✓
Organic Matter
✓
✓
PH
✓
✓
Cation Exchange Capacity (%CEC)
✓
✓
Clay
✓
✓
Soil Type
✓
✓
Moisture
✓
✓
Calcium (Ca)
-
✓
Magnesium (Mg)
-
✓
Aluminum (Al)
-
✓
Iron (Fe)
-
✓